It's getting to be that time of year. You know what I'm talking about. That time of year where teachers are absolutely swamped. Desks piled high with papers. Assessments coming out your ears. Grades to enter. End of the year fun to be planned. And energy running low. Let's face it. The end of the year is exhausting. You might find yourself feeling a little drained and a little less than appreciated. But rest assured, teachers, you ARE appreciated! Those very kids that are driving you bonkers right now, will come back next year just to give you a hug and see your smiling face. Their parents will SUPER appreciate you a few weeks into summer break when they realize how much energy their child has.
Well, the bloggers over at iTeach Kinder KNOW how hard you work and we wanted to do a little something special so we're throwing a super awesome giveaway to show you that you ARE appreciated!
You can enter to win a giftcard from Target, Amazon, Starbucks, or TPT! We got to thinking about all the awesome things you could buy with those giftcards and we want to hear from you! In true Laura Numeroff fashion, we want to know If you give a teacher a giftcard...what will she get?! Hope you don't mind if I share my ideas!
I have such an obsession with cups/water bottles. Can you ever really have too many?
Because candy in bulk is just better. BUT you can have the banana ones... YUCK!
It's finally an appropriate time of year to have a delicious frozen drink! I love a good frappuccino. The one pictured is a Toffee Mocha. I'm telling you -- if it's toffee, I'm THERE! And what better to pair it with than an ooey gooey rice crispy?! YUM!
My kids LOVE LOVE LOVE puzzles... especially ones that allow them to stretch out on the floor! Great for fine motor AND teamwork!
If you've got a laminator at home, Lord knows, the sheets are expensive! Spending a gift card on them is ALMOST like getting them for free! ;)
Get these pens and I swear you won't regret it. They come in a gobzillion different colors and they are SUPER fine tip. Love them for grading, planning, and writing my to-do lists! :)
Love the idea of a little read/answer for my more advanced kids in small group!
Following directions AND doing something enjoyable. Yes, please!
Can't go wrong with new clipart!
So there you have it. If I were lucky enough to win a giftcard, that's how I would spend it! Now it's time for YOU to go enter! All you have to do to win is go follow us over at iTeach Kinder and enter the rafflecopter there! Click the image below to head on over! :)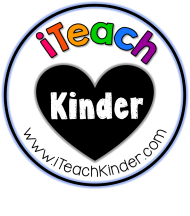 And go read about what some other K-2 teachers would buy with their giftcards!